Visit Orlando today announced the donation of $186,805 to The Able Trust as the recipient of the Magical Dining program. The check presentation was made during the Visit Orlando Year End Celebration.
The Able Trust is honored to have been selected by Visit Orlando. Our High School High Tech program helps participating students with disabilities see a future for themselves they might not have imagined. The support from Visit Orlando's Magical Dining will be an important boost to the Orange County High School High Tech students with potential life-changing impact.
Pictured below:  Visit Orlando President & CEO Casandra Matej, The Able Trust Board of Directors Secretary Chip Byers, The Able Trust President & CEO Allison Chase, and  Visit Orlando Board of Directors Chair Brian Comes.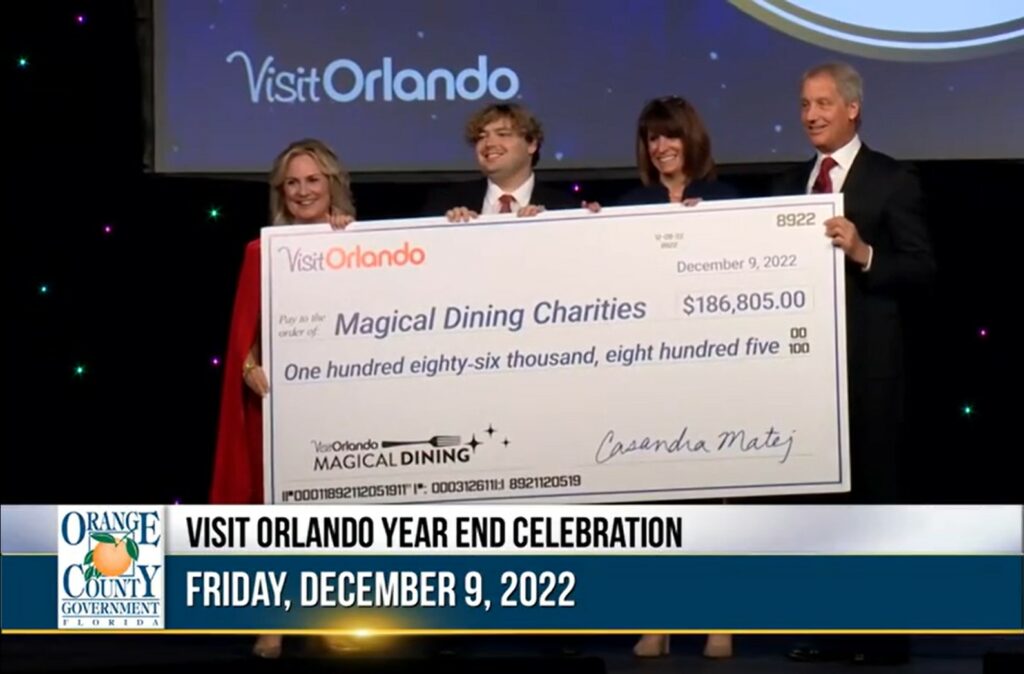 Each year, Visit Orlando's Magical Dining selects nonprofit organizations making an impact on the Orlando community to serve as a charity beneficiary. This year, Visit Orlando's Magical Dining charity committee focused on identifying organizations supporting the Central Florida workforce. One dollar from every meal will benefit The Able Trust, an organization helping to expand employment opportunities for people with disabilities.
"Visit Orlando's Magical Dining celebrates our destination's award-winning culinary scene by bringing more than 100 of Orlando's best restaurants together to offer prix-fixe menus for dinners to explore new restaurants," said Casandra Matej, president & CEO, Visit Orlando. "The program continues to be a source of support for our local businesses and provides funds for charities right here in our community. This year, one dollar from every meal will benefit The Able Trust, providing valuable funds to an organization making an impact on the critical workforce issue right here in our community."