Collaborating to Make an Impact
During the October 5, 2022 webinar, The Able Trust's Director of Strategic Initiatives, Leanne Rexford spoke with Kari Bates, CEO of the Arc Jacksonville and Brian Wolfburg, President and CEO of VyStar Credit Union. Webinar attendees were able to learn how Brian and his team are partnering with The Arc Jacksonville to employ and empower people with intellectual disabilities, and how VyStar supports their employees with varying abilities long after they have been hired.  To watch the recording, click the video below.
A Collaboration Story - Part 1
In the first part of a series of real-time articles, Leanne Rexford, The Able Trust's Director of Partner Relations, documents the initial stages of a major Southwest Florida hotel's innovative approach to solving their staffing shortage. Learn how the hotel's recruiting manager took the initiative to try something new, laid the groundwork for the best possibility of success, and engaged traditionally competitive service providers in mutually beneficial collaboration.
Incentives & SSI Recipients Interested in Returning to Work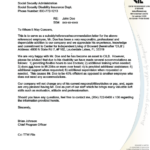 Many individuals with disabilities want to work, but often times they are concerned with losing their financial benefits or health care coverage from Social Security. However, under the Social Security Administration (SSA), SSA does offer special consideration that may allow an individual to make more income without impacting their benefit called a "subsidy" once you go over substantial gainful activity. A "subsidy" is support provided by an employer that may result in the employee receiving more pay than the actual value of the services the individual with a disability performs.
Please click here to see a sample subsidy letter, and if you want to learn more about subsidies, click here.
Shifting Your Focus: Try a Different Approach to Service
From time to time as an employment service provider, you may find yourself with a large number of clients and not enough employers picking up the phone or responding to emails. While this can be frustrating, there may be an alternative approach in these dry spells–shift your perspective from the job-seeker to the employer.
Click here for a few methods to make a successful pivot to a more employer centric focus, written by Leanne Rexford, The Able Trust's Director of Strategic Initiatives.
HAAPE and High School High Tech Collaborative Webinar
Discover how HAAPE (Helping Adults with Autism Perform & Excel (HAAPE) can help prepare your students with autism for continued education and success after high school. Join The Able Trust and High School High Tech to learn about this great resource for individuals and agencies who work with secondary-aged persons with autism.
Watch this webinar to learn about the resources and training opportunities available as well as the important benefits businesses gain when hiring a person with autism.
View the accompanying slides by clicking here.
A Study of Success with Moffitt Cancer Center and MacDonald Training Center
The Moffitt Cancer Center (MCC) and MacDonald Training Center (MTC) have established an innovative collaboration that is changing lives and providing pathways to employment for people with disabilities. During this recent webinar, participants heard how this collaboration is making a difference in their community and had the opportunity to learn how this best practice could impact their efforts to increase disability employment.
2022 Vocational Rehabilitation and CareerSource Florida: Strengthening Career Pathways through Partnerships
Vocational Rehabilitation & CareerSource Florida: Strengthening Career Pathways through Partnerships is a conversation with Michelle Dennard, President & CEO of CareerSource Florida and Brent McNeal, Director of the Florida Division of Vocational Rehabilitation. 
Participants learned how CareerSource Florida and the Division of Vocational Rehabilitation work together to help persons with disabilities find work. Watch this informative webinar where you will learn about opportunities for service providers, CareerSource Florida team members, VR counselors and employers to tap into Florida's hidden talent pool.
In addition to a legislative update, this webinar provides the CEO perspective on job development and how to strengthen your ability to help place individuals with disabilities into the job market.
Watch below to hear Bill Santos with Employment Management Professionals – Oakville (EMP) as he describes how to face and solve some of the challenges that occur when helping place persons with disabilities into career opportunities.
Santos describes a diagnostic tool KUBA – Know, Understand, Believe and Act – to improve job placement for persons with disabilities.
When it comes to job placement … there are only two key areas of intervention that your job placement department can be involved in.  You are either developing the core competencies of the job seeker… or you're influencing the employer's perception of the job seeker.
The Able Network Newsletter​
Visit the Publications webpage to read about The Able Trust partners, their work and information they would like employers to know.
If you're not on our newsletter distribution list, sign up today. To receive the Able Network newsletter or the CEO or High School High Tech newsletters, click here.


About the High School High Tech Program​
The Able Trust High School High Tech (HSHT) is designed to provide high school students with all types of disabilities the opportunity to explore jobs or postsecondary education leading to in-demand careers. HSHT links youth to a broad range of academic, career development and experiential resources and experiences that will enable them to meet the demands of the 21st century workforce.
Watch this video to learn about the benefits of the High School High Tech program
Industry Overview: Manufacturing

What is the fourth industrial revolution? Industry 4.0 involves a range of new technologies – robotics, artificial intelligence, the internet of things, autonomous vehicles, nano-technology and 3D printing. These technologies can improve lives, create new jobs, make goods cheaper and impact the world in ways we can't even image. Now is the time to be a manufacturer.
To learn more, watch the video.