Newsletters & Publications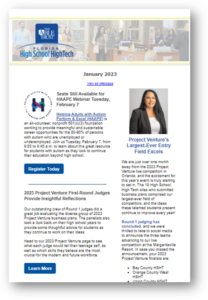 High School High Tech Newsletter
Recently Released Reports
To view The Able Trust reports, visit the Research webpage and download information on the economic benefits of hiring persons with disabilities, the latest data on disability employment and more.
Not Receiving Our Newsletters?
If you're not on our newsletter distribution list, sign up today to receive the Able Network, CEO Update or High School High Tech newsletters.
We share these stories and victories with our dedicated supporters around the world.