Disability Employment Awareness Month (DEAM)
National Disability Employment Awareness Month (NDEAM) begins October 1 and commemorates the contributions of people with disabilities to America's workforce and economy. Despite these contributions, and improvement in the number of individuals with disabilities that are entering the workforce, a gap of more than 40 percentage points exists between workforce participation of the general population and persons with disabilities.
If you're interested in showing your support for Disability Employment Awareness Month, we have a few simple ways to get involved.
Register today for one or all four webinars and don't miss this opportunity to hear from business, employment, and community leaders on how Florida can continue to expand disability employment. Your participation is a great way to show support for Disability Employment Awareness Month and learn more about a valuable, yet hidden talent pool.
CLICK HERE TO VIEW WEBINAR TOPICS AND TO REGISTER
Become a Sponsor: Download the DEAM sponsor form and select the level that works best for your organization.
Stay Up-To-Date:  Sign up for one of our newsletters for the latest research, events and new on disability employment.
Help Spread the Word: Share a photo of yourself on social media with your favorite morning beverage and post with the hashtag #cupofambition

.

Take the First Step: We have outlined five first steps employers can take to become more inclusive.
Take Our eCourse: If you're ready for the next step in become more inclusive, we have an online course that will show you the benefits of hiring persons with disabilities as well as addressing some common concerns, and providing additional resources.  Click here to get started.
Contact Us: The Able Trust is here to answer your questions and help you learn more about your local disability employment resources. Email [email protected] or complete this form and let us know how we can help.

Use our Templates
                  – Issue a Proclamation of Support: If you're a county or city interested in issuing a Proclamation in support of Disability Awareness Month, start with out Proclamation Template and customize with your information.
                 – Post a Corporate Statement of Support: If you are a Florida employer and would like to show your support, start with our Corporate Statement of Support and customize for your organization.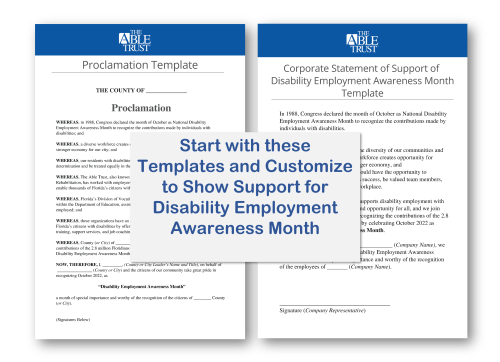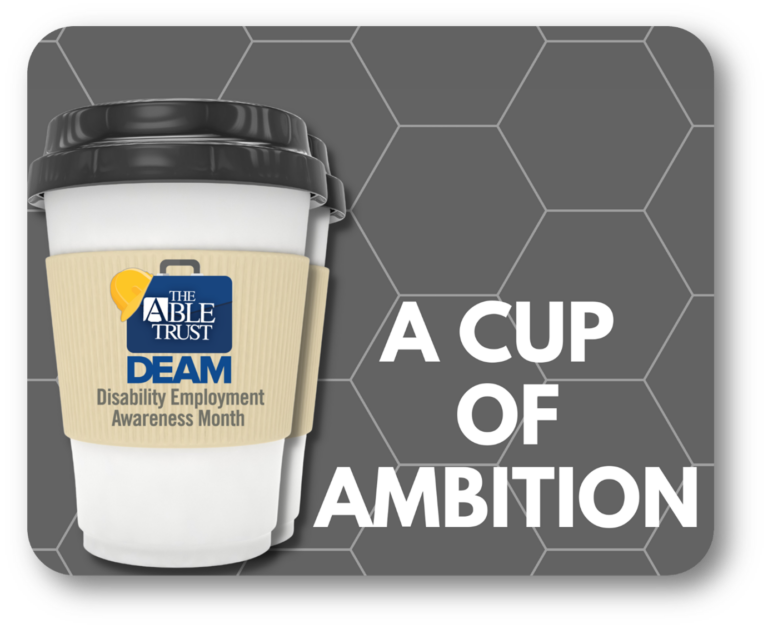 While The Able Trust is focused on disability employment year-round, we are gearing up to recognize October which is National Disability Awareness Month and a very special time of year. 
This year, The Able Trust theme for Disability Employment Awareness Month is "Cup of Ambition" and we hope you will join us in helping to spread the word about this important month.
Social media will be important as we strive to reach a broad audience about Disability Employment Awareness Month. We would love to include a photo of our you, holding a cup of coffee (or your favorite morning beverage) as we roll out our "cup of ambition" campaign.
Please post your photo, with your favorite beverage and be sure to tag The Able Trust and use #cupofambition along with  #inclusiveflorida to show your support for expanding disability employment in Florida.
Become a Disability Employment Awareness Month Sponsor
Download the form below and show your  organization's support of disability employment. For information or questions, contact Donna Wright at [email protected]