Disability Employment Awareness Month (DEAM)
October is National Disability Employment Awareness Month (NDEAM) and commemorates the contributions of people with disabilities to America's workforce and economy. Despite these contributions, and improvement in the number of individuals with disabilities that are entering the workforce, a gap of more than 40 percentage points exists between workforce participation of the general population and persons with disabilities.
Businesses, employers and community leaders are vital to closing this gap. The first step is understanding more about the workforce gap that exists, as well as learning about the wide array of experience and skills persons with disabilities have to offer. Check out The Able Trust research and an editorial written by The Able Trust President & CEO Allison Chase to learn more and when you're ready to take the first step, The Able Trust has a wide variety of resources and tips for your convenience.
If you're interested in learning more about disability employment, we have a few simple ways to get started.
During October, The Able Trust offered a series of four webinars, providing the opportunity to hear from business, employment, and community leaders on how Florida can continue to expand disability employment. 
CLICK HERE TO VIEW WEBINAR TOPICS AND TO WATCH THE RECORDINGS
Stay Up-To-Date:  Sign up for one of our newsletters for the latest research, events and new on disability employment.
Help Spread the Word: Share a photo of yourself on social media with your favorite morning beverage and post with the hashtag #cupofambition

.

Take the First Step: We have outlined five first steps employers can take to become more inclusive.
Take Our eCourse: If you're ready for the next step in become more inclusive, we have an online course that will show you the benefits of hiring persons with disabilities as well as addressing some common concerns, and providing additional resources.  Click here to get started.
Contact Us: The Able Trust is here to answer your questions and help you learn more about your local disability employment resources. Email [email protected] or complete this form and let us know how we can help.
Use our Templates
                  – Issue a Proclamation of Support: If you're a county or city interested in issuing a Proclamation in support of Disability Awareness Month, start with out Proclamation Template and customize with your information.
                 – Post a Corporate Statement of Support: If you are a Florida employer and would like to show your support, start with our Corporate Statement of Support and customize for your organization.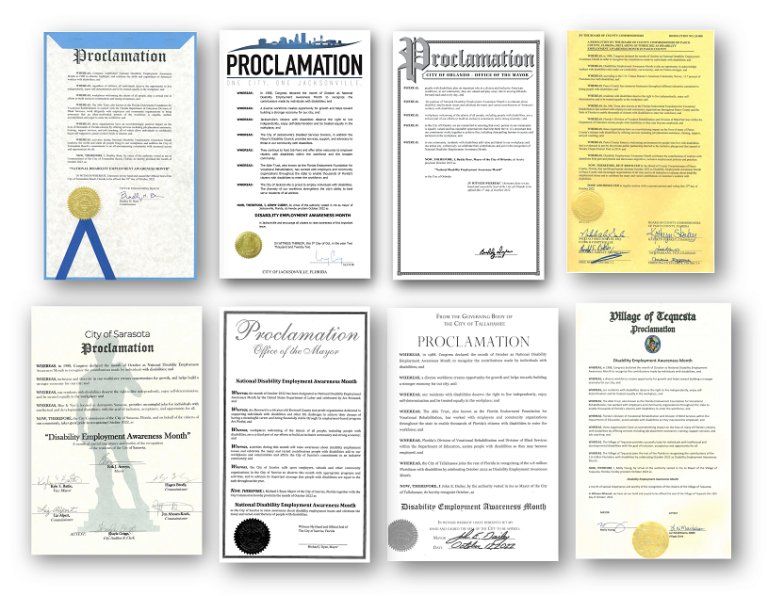 Thank You to Our
Disability Employment Awareness Month Sponsors!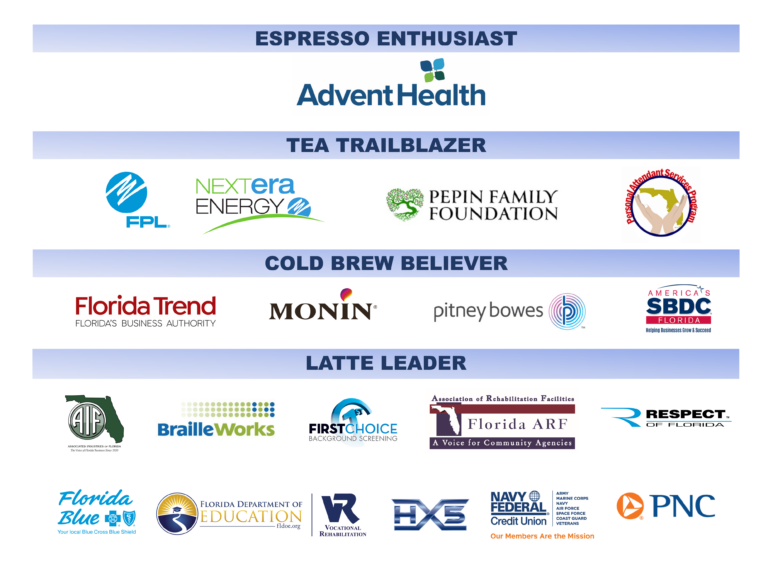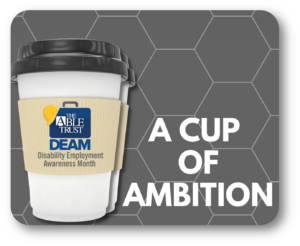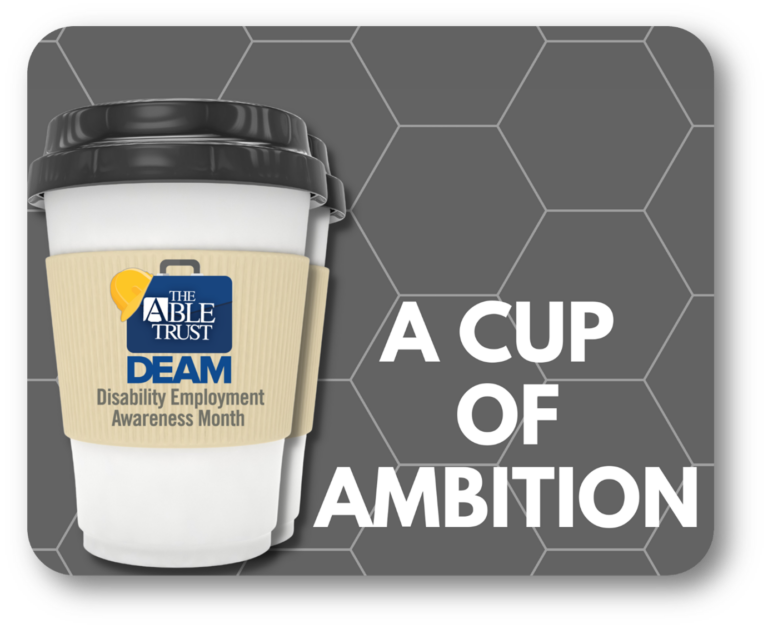 Thank you to the following companies for their partnership in supporting Disability Employment Awareness Month (DEAM). Each partner is using the custom DEAM coffee sleeves for their customers and employees. We appreciate your support!
Black Bean Deli – Winter Park
Busy Bee
FloridaMakes
Hope Healthcare
HX5
MacDonald Training Center
Marriott
Pitney Bowes
Pups and Cups
Red Eye Coffee
Rise and Nye's
Saddlebrook
This year, The Able Trust theme for Disability Employment Awareness Month is "Cup of Ambition" and we hope you will join us in helping to spread the word about this important month.
Social media will be important as we strive to reach a broad audience. We would love to include a photo of you, holding a cup of coffee (or your favorite morning beverage) as we roll out our "cup of ambition" campaign. Please post your photo, with your favorite beverage and be sure to tag The Able Trust and use #cupofambition along with  #inclusiveflorida to show your support for expanding disability employment in Florida.
Disability Employment Awareness Month
Proclamations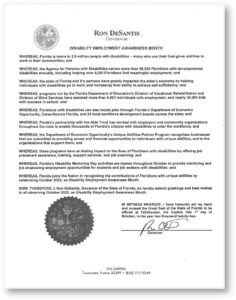 Thank you to the State of Florida and the following local municipalities for showing leadership in recognizing Disability Employment Awareness Month and the contributions persons with disabilities make to their local workforce.
Disability Employment Awareness Month Celebration
To celebrate DEAM, The Able Trust hosted a celebration in Jacksonville. We were excited to hear from High School High Tech alumnus Ricardo Foster who currently works as a rehab tech at Wolfson Children's Hospital in Jacksonville. Click here for more information.