Disability Employment Awareness Month
Throughout Disability Employment Awareness Month, we will hold informative webinars to learn about important education initiatives, transition resources, talent retention and more. Register today to join us and share this information with your colleagues. 
Oct 4, 2023 | 11:00 AM
Future of Work Florida Initiative and Workforce Preparation
Join The Able Trust and Chancellor Kevin O'Farrell of the Division of Career and Adult Education for a discussion of Future of Work Florida, a part of the Get There program, the Florida Department of Education's workforce education initiative focused on career and technical education. Future of Work Florida was created to bring together job creators, industry leaders and education and community partners to showcase the careers of the future and the industries with the most growth potential.
Oct 11, 2023 | 11:00 AM
Autism at Work – A Refresher
This webinar is designed for employment specialists who work with clients on the autism spectrum. It is a high level refresher of ASD and how employment specialists can focus on the strengths their clients have. Shelton Gilyard, a scholar and researcher with nearly 25 years of experience working on behalf of individuals with disabilities, will offer key insights.
Oct 18, 2023 | 11:00 AM
Project 10: State of Transition
We're thrilled to welcome back the Project 10: Transition Education Network team to present as part of The Able Trust's Webinar Wednesdays series. Learn about the current state of transition education in Florida and discover the range of resources available through this outstanding organization.
Oct 25, 2023 | 11:00 AM
Workplace Culture & Employee Engagement
This webinar is an opportunity for employment providers to learn from one another. We will be discussing how to keep the talent you have on your team, how to communicate effectively and how to refresh your leadership skills in a way that allows you to bring your best to the office every day. As an attendee, you will come away better equipped to take care of yourself and your staff, so your entire team can better serve your clients.
Nov 1, 2023 | 2:00 PM
Together We Thrive: ERGs Bridging Gaps for People with Disabilities and Families
In this enlightening session, we will explore the transformative power of Employee Resource Groups (ERGs) in fostering inclusivity and support for individuals with disabilities and their families. Discover how ERGs can break down barriers, create a sense of belonging, and empower both employees and their loved ones to thrive in the workplace.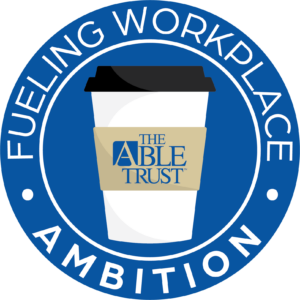 Our Disability Employment Awareness Month theme is Fueling Workplace Ambition, demonstrating that people with disabilities are ambitious and have the knowledge and skills to be meaningful additions to the workforce. We look forward to seeing disability employment expand in Florida. And what better way to start each workday than with a cup of tea, coffee or any beverage that fuels our ambition.
Interested in webinars from the 2022 Webinar Wednesday Series? Watch the Collaborating to Make an Impact  webinar to see how VyStar Credit Union is partnering with The Arc Jacksonville to employ and empower people with intellectual disabilities. CLICK HERE