Disability Employment Awareness Month (DEAM)
National Disability Employment Awareness Month (NDEAM) commemorates the contributions of people with disabilities to America's workforce and economy. Despite these contributions, and improvement in the number of individuals with disabilities that are entering the workforce, a gap of more than 40 percentage points exists between workforce participation of the general population and persons with disabilities. Closing this gap is what The Able Trust focuses on every day and our Webinar Wednesday series was designed not only to help raise awareness but to provide information for partners, businesses and other stakeholders around Florida.
Disability Employment Awareness Month Special Events & Webinars
Webinar Wednesday 
Below are recordings of all four webinars in this series. Watch them today to hear from business, employment, and community leaders on how Florida can continue to expand disability employment. Your participation is a great way to show support for Disability Employment Awareness Month and learn more about a valuable, yet hidden talent pool.
Your Feedback is Welcome!
Once you have watched the webinar(s), we would appreciate your input. Your feedback is invaluable as we strive to provide the best information possible.
Whether you watch one or all four, please click here to take a short survey. Thank you!
Webinar Wednesday Recordings
Collaborating to Make an Impact
During the October 5th webinar, The Able Trust's Director of Strategic Initiatives, Leanne Rexford spoke with Kari Bates, CEO of the Arc Jacksonville and Brian Wolfburg, President and CEO of VyStar Credit Union. Webinar attendees were able to learn how Brian and his team are partnering with The Arc Jacksonville to employ and empower people with intellectual disabilities, and how VyStar supports their employees with varying abilities long after they have been hired.  To watch the recording, click the video below.
Building Work Skills for Employment Success
This October 12th webinar included conversations with education leaders from Project 10: Transition Education Network on opportunities and challenges students with disabilities face as they transition to post-secondary education.
Innovating Towards Disability Workforce Inclusion
This October 19th webinar included a conversation between The Able Trust President & CEO Allison Chase and Bill Santos, President of EMP Oakville included a discussion on how to respond to market demands and important tips to developing employer relationships as we work together to close the labor force participation gap for Floridians with disabilities. 
Embracing the New Era of Disability Inclusion
In this last webinar of the Disability Employment Awareness Month webinar series, Jim Sinocchi with JP Morgan Chase will outline steps businesses, large and small, should consider if they are planning to hire persons with disabilities. Register today to hear from Jim as he brings his 40 years of experience with disability inclusion strategies to our discussion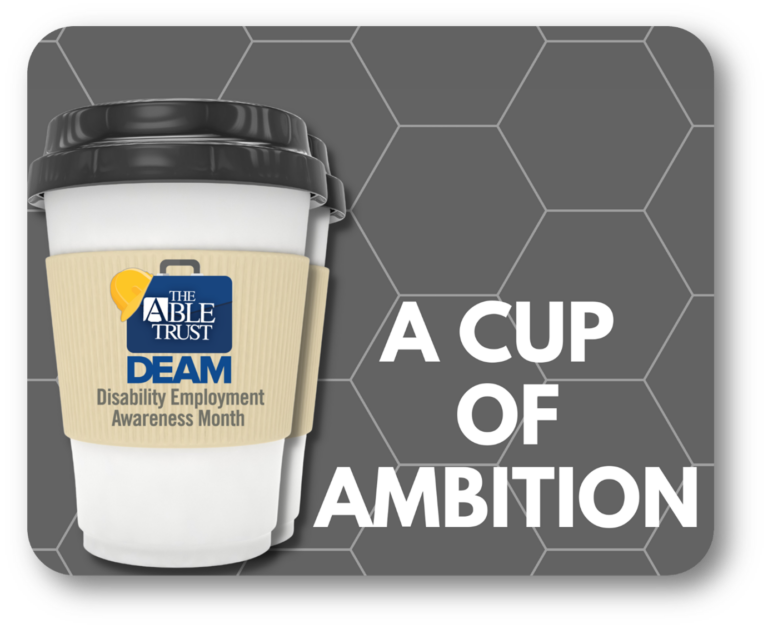 While The Able Trust is focused on disability employment year-round, we are gearing up to recognize October which is National Disability Awareness Month and a very special time of year. 
This year, The Able Trust theme for Disability Employment Awareness Month is "Cup of Ambition" and we hope you will join us in helping to spread the word about this important month.
Social media will be important as we strive to reach a broad audience about Disability Employment Awareness Month. We would love to include a photo of our you, holding a cup of coffee (or your favorite morning beverage) as we roll out our "cup of ambition" campaign.
Please post your photo, with your favorite beverage and be sure to tag The Able Trust and use #cupofambition along with  #inclusiveflorida to show your support for expanding disability employment in Florida.
Become a Disability Employment Awareness Month Sponsor
Download the form below and show your  organization's support of disability employment. For information or questions, contact Donna Wright at [email protected].