2023 High School High Tech Conference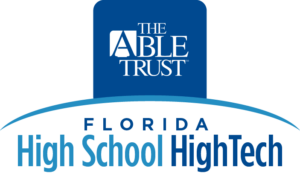 Annual High School High Tech Conference
Ability Week provided a great opportunity for The Able Trust to focus on High School High Tech, the statewide Project Venture competition and The Able Trust board meeting. In addition to special recognition of the High School High Tech (HSHT) coordinators, the High School High Tech Conference provided opportunities to share ideas and learn about new programs.  We appreciate the efforts of our partners statewide for their leadership and support of the HSHT students. 
For information on Project Venture including the 2023 Project Venture winner, click here.  
2022 High School High Tech and Guidepost Award Winners
The awards were presented by members of The Able Trust Board of Directors during the High School High Tech reception held at the Margaritaville Resort Orlando. Each of these sites continues to show outstanding commitment to preparing students for postsecondary success.
Congratulations to this year's honorees!