ORANGE COUNTY WEST WINS PROJECT VENTURE
The High School High Tech team from Orange County West took home the grand prize at the Project Venture competition Wednesday, March 1 in Orlando. 
The Orange County West HSHT site received a $1,000 award and successfully defended their 2022 Project Venture title with the victory. Second- and third-place honors went respectively to the Union County HSHT and Bay County HSHT teams.
"We are so proud of all the teams who took part in this year's competition," said Allison Chase, President and CEO of The Able Trust. "This was the largest field of Project Venture entrants yet, with 19 High School High Tech sites extremely well-represented. Students who participate in High School High Tech learn skills that are important to their future. The Able Trust helps these students by connecting them to a broad range of academic, career development and experiential resources, and the Project Venture competition allows them to use these skills in a workplace simulation."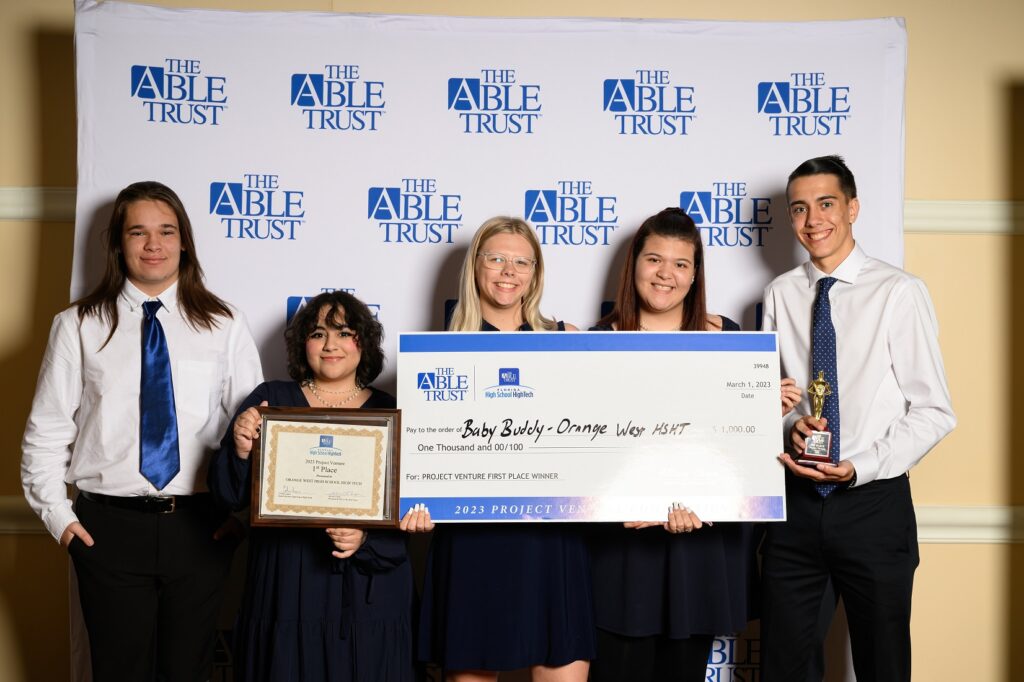 First Place  – Orange County West – Baby Buddy
Second Place – Union County – A+ Homework            Third Place – Bay County – CHQ Moves
Thank You Project Venture Final Judges!
Thank You Project Venture Round One Judges!
2023 Project Venture Teams
Congratulations and good luck to the 2023 Project Venture teams! Below is the list of High School High Tech (HSHT) sites that submitted business plans and promotional videos for a new business idea.
Click the buttons below to check out the Project Venture promotional videos or to learn more about High School High Tech.
Bay County HSHT – Chautauqua Learn and Serve Charter School
Brevard County HSHT – Brevard Schools Foundation
Columbia County HSHT – CareerSource Florida Crown Workforce Board, Inc.
Duval County HSHT – The Arc of Jacksonville
Escambia County HSHT – Goodwill Gulf Coast
Flagler County HSHT – Flagler County Education Foundation
Gilchrist County HSHT – CareerSource Florida Crown Workforce Board, Inc.
Lake County HSHT – Educational Foundation of Lake County, Inc.
Leon County HSHT – Ability 1st
Madison County HSHT – Madison County School District
Manatee County HSHT – The Haven
Nassau County HSHT – Nassau County School District
Orange County East HSHT – Foundation for Orange County Public Schools
Orange County West HSHT – Foundation for Orange County Public Schools
Pinellas County HSHT – ServiceSource dba Abilities Inc.
Pinellas County LiFT HSHT – Learning Independence for Tomorrow
Polk County HSHT – Polk County Public Schools
Sarasota County HSHT – The Haven
Union County HSHT – CareerSource Florida Crown Workforce Board, Inc.
Thank You to our 2023 Project Venture Sponsors!
Executive Coach Sponsor - Bay County
First 100 Customers Sponsors
Interested in Investing in High School
High Tech?
Entrepreneurial Competition for Students with Disabilities
Project Venture is a competition for high school students with disabilities who participate in The Able Trust High School High Tech program. Project Venture teams prepare and present a comprehensive business plan to promote and sell a new product or service.
Students who participate in this competition gain important skills they will need as they transition out of high school into post-secondary education or training, or go directly into the workforce:
Introduce students to entrepreneurism and the entrepreneurial spirit.
Facilitate students working in teams on real-world applications.
Allow students to develop workplace communication skills and other soft skills.
Enable students to learn by doing.
During the competition, a panel of judges review the business plan and commercials submitted by all Project Venture teams. Three teams are selected by this panel to compete in person in a second round of judging that takes place in front of an audience. This year's competition will take place at the Margaritaville Resort in Orlando on March 1.