Project Venture - March 1, 2023
ANNOUNCING THE PROJECT VENTURE FINALISTS!
THANK YOU TO ROUND 1 JUDGES!
Congratulations to the High School High Tech Teams competing in the 2023 Project Venture competition! We are proud of these students and their entrepreneurial spirit and we are excited to see what creative business ideas they have developed.
The first round of judging is now underway. Thank you to our incredible panel of judges!
In addition to reviewing the Project Venture business plans and promotional videos, we asked our judges for advice we could share with the students as they work on their ideas.  We appreciate their thoughtful responses!
What is once piece of advice you would you tell your teen self?
Engage with Everyone you meet! You never know when a past relationship will help your future.
Learning to be an effective member of a team is critical. Few things are accomplished alone in life.
Find mentors you trust to help you to the next level, and don't be afraid to have more than one mentor.
Stay open to different learning opportunities.
What skills are needed for the next generation of of workforce talent?
Customer service. Being friendly and approachable will help you in every workforce position.
Critical thinking, strong presentation and verbal skills, and collaboration.
As we move forward with technology, people skills are going to be more and more rare and even more important. Read "How to Win Friends and Influence People."
Initiative, follow-through, growth from feedback and ability to work well with others.
2023 Project Venture Teams
Congratulations and good luck to the 2023 Project Venture teams! Below is the list of High School High Tech (HSHT) sites that submitted business plans and promotional videos for a new business idea.
Click the buttons below to check out the Project Venture promotional videos or to learn more about High School High Tech.
Bay County HSHT – Chautauqua Learn and Serve Charter School
Brevard County HSHT – Brevard Schools Foundation
Columbia County HSHT – CareerSource Florida Crown Workforce Board, Inc.
Duval County HSHT – The Arc of Jacksonville
Escambia County HSHT – Goodwill Gulf Coast
Flagler County HSHT – Flagler County Education Foundation
Gilchrist County HSHT – CareerSource Florida Crown Workforce Board, Inc.
Lake County HSHT – Educational Foundation of Lake County, Inc.
Leon County HSHT – Ability 1st
Madison County HSHT – Madison County School District
Manatee County HSHT – The Haven
Nassau County HSHT – Nassau County School District
Orange County East HSHT – Foundation for Orange County Public Schools
Orange County West HSHT – Foundation for Orange County Public Schools
Pinellas County HSHT – ServiceSource dba Abilities Inc.
Pinellas County LiFT HSHT – Learning Independence for Tomorrow
Polk County HSHT – Polk County Public Schools
Sarasota County HSHT – The Haven
Union County HSHT – CareerSource Florida Crown Workforce Board, Inc.
Thank You to our 2023 Project Venture Sponsors!
First 100 Customers Sponsors
Entrepreneurial Competition for Students with Disabilities
Project Venture is a competition for high school students  with disabilities who participate in The Able Trust High School High Tech program. Project Venture teams prepare and present a comprehensive business plan to promote and sell a new product or service.
Students who participate in this competition gain important skills they will need as they transition out of high school into post-secondary education or training, or go directly into the workforce:
Introduce students to entrepreneurism and the entrepreneurial spirit.
Facilitate students working in teams on real-world applications.
Allow students to develop workplace communication skills and other soft skills.
Enable students to learn-by-doing.
During the competition a panel of judges review the business plan and commercials submitted by all Project Venture teams. Three teams are selected by this panel to compete in person in a second round of judging that takes place in front of an audience. This year's competition will take place at the Margaritaville Resort in Orlando on March 1.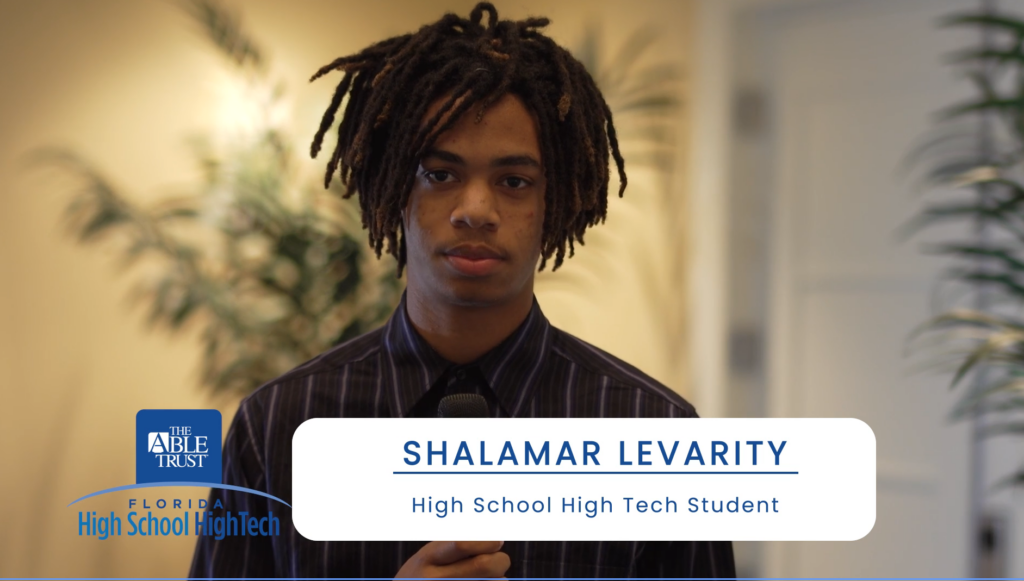 Project Venture Sponsorship Opportunities
Sponsorship funding is vital to successfully conducting this competition and ensures each team has the necessary resources to compete. Companies who sponsor Project Venture receive recognition for their support of the high school teams as they compete in two rounds of judging. As a sponsor, your organization will be recognized as a leader in:
Investing in preparing today's students to be ready to become tomorrow's entrepreneurial leaders.
Championing disability employment by supporting this unique program that helps students learn skills that are crucial to success in the workplace.
Working to expand a program for students with disabilities that is impacting families across Florida.
Serving as a judge on Project Venture, seeing the passion and incredibly innovative business ideas, was truly an honor. I was awed and inspired by the confidence with which the students answered questions, their preparation and how well they knew their audience and product, and the polish of their pitches to prospective clients and investors. I will cherish this special day for the rest of my life!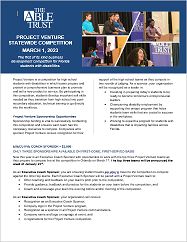 We are offering a variety of sponsorship opportunities and you can download the complete listing by clicking here.  
A new opportunity this year is an Executive Coach Sponsor in which the sponsor work with the top three Project Venture teams as they prepare to compete live at the competition in Orlando on March 1st. The top three teams will be announced the week of January 23rd.
Executive Coach Sponsor – $3,000
Only Three Sponsorships Available on first-come, first-Served basis
As an Executive Coach Sponsor, you are ensuring student teams are able to travel to the competition to compete against the other top teams. Each Executive Coach Sponsor will be paired with a Project Venture team to:
Offer coaching and feedback on your team's pitch prior to the competition,
Provide guidance, feedback and practice for the students on your team before the competition, and
Coach and encourage your team the evening before and/or morning of the competition.
As an Executive Coach Sponsor, your organization will receive:
Recognition as an Executive Coach Sponsor,
Company logo in the Project Venture program,
Recognition as a sponsor in all Project Venture communications,
Company name and logo on signage at event, and
4 registrations for the Project Venture competition.
Sponsor Your Project Venture Team Today!
Learn about sponsorship opportunities and show your support for Project Venture Teams by downloading our sponsorship form.
For questions or more information, contact Donna Wright at [email protected]
Project Venture 2023 will take place March 1st in Orlando Florida. Due to space limitations, we are offering a limited  number of free registrations to the competition, available on a first-come, first-served basis.
To request one of these registrations, complete this form.  
The top three teams in 2022 that submitted Project Venture business proposals attended the Project Venture competition in Orlando. To view their video submissions, CLICK HERE.
Orange County and the Belt Buddy took the top prize!
St. Johns County and their Guide Right phone app received second place
Lake County and their product Shake it Up! received third place.