Pathways to Career Success
NEW REPORT: Industry Analysis and Pathways to Career Success for Persons with Disabilities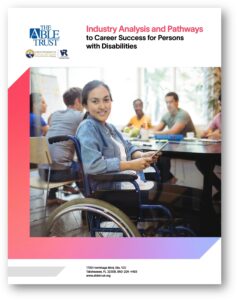 The Able Trust is releasing a new study providing the latest  research on Florida's top growing industries and highlighting occupations where there exist opportunities to increase employment of individuals with disabilities.
Developed in partnership with Lightcast, a global leader in labor market analytics, the study explores the employment landscape for Floridians with disabilities. The new report also reiterates the economic benefits expanding disability employment would bring to Florida, including helping industries overcome hiring shortages.
Closing the labor force participation gap for Floridians with disabilities would benefit not only the workers, but also employers who have been struggling to address ongoing labor shortages. In addition to bringing many more people into the workforce, increasing labor force participation among persons with disabilities by 10 percentage points over the next ten years would add an estimated $111 billion to the Florida economy.
While employment rates for persons with disabilities continue to improve in Florida and nationwide, there remains significant room for improvement in both the accessibility and quality of career pathways.
Persons with disabilities make up only 6% of Florida's labor force. Members of the general population are six times more likely to participate in the labor force, and nearly three times more likely to be employed.
Persons with disabilities who do have jobs are often underemployed; on average, they work fewer hours for much lower wages than Floridians who do not have a disability.
Florida is expected to see rapid job growth in a wide range of employment fields. Job opportunities in industries such as healthcare and social assistance, accommodations and food service, and professional, scientific and technical services are on the rise.
Report recommendations include streamlining system processes; raising awareness through public campaigns; implementing industry-specific programs to engage employers and promote career pathways; catering career services to occupational characteristics; and taking advantage of remote work opportunities.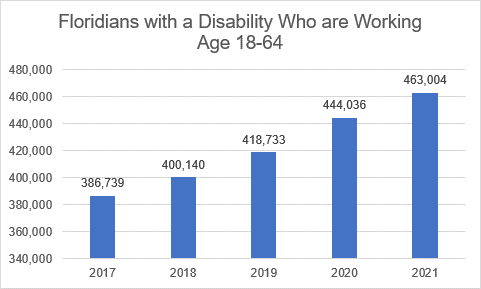 Information in this report can be used by The Florida Department of Education, Division of Vocational Rehabilitation, employers, business and industry leaders and our partners across Florida to better understand current employment, wages, and representation of persons with disabilities in occupations in Florida.
If you have questions about this report or The Able Trust, please contact us by completing this short form. 
The Able Trust was established as a direct support organization for the Florida Department of Vocational Rehabilitation. We also serve as a resource for employment service providers, businesses and other employers around the state.
We welcome the opportunity to speak to you, your board or at an event you hold for customers or colleagues. If you would like to discuss an opportunity, complete this short Speaker Request Form.
Industry Distribution of Florida's Workforce with Disabilities for Florida's Fastest Growing Sectors
As illustrated in the report, several of Florida's industries are projected to grow at a rapid pace over the next decade. Most of the sectors experiencing the most rapid growth do not employ large shares of persons with disabilities. Those rapidly growing industries represent expanded sets of opportunities for all Floridians, and industry partners can be approached to look to persons with disabilities as an important source of talent.