Solving Florida's Labor Shortage: The Hidden Solution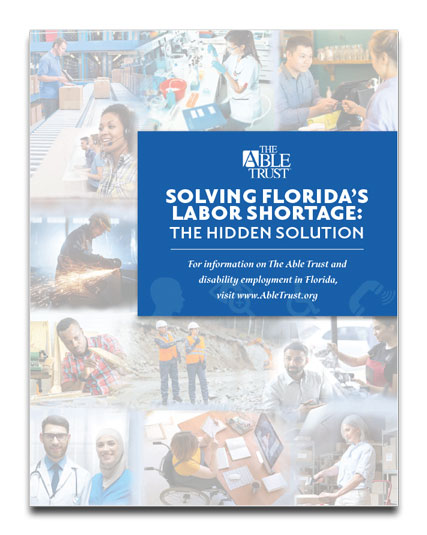 In our ongoing effort to provide meaningful data and research, we are releasing a new report, Solving Florida's Labor Shortage: The Hidden Solution, to show changes in the employment of persons with disabilities.
Currently, the labor force participation rate in Florida for persons with disabilities is 20.4 percent compared to 63.0 percent for persons without disabilities — a gap of more than 40 percentage points. This gap has persisted for more than 40 years and is clearly unacceptable for our state and the current demand for a qualified workforce.
At this moment, Florida has nearly 500,000 unfilled jobs, and forecasts indicate substantial growth in new jobs annually between now and 2030. We see the confluence between the need for quality workers and a diverse workforce as a tremendous opportunity. Businesses and employers are beginning to recognize the value of hiring from nontraditional sources of talent, and Floridians with disabilities are part of the workforce shortage solution.
This report continues our focus on illustrating the disability workforce landscape in Florida and imagining what is possible when employers realize the value of a disability inclusive workforce. It is our goal to close the labor force participation gap for Floridians with disabilities by 10 percentage points in the next 10 years. This translates to approximately 300,000 more individuals with disabilities entering the workforce in Florida by 2032. This effort requires extensive analysis of existing data and research, identifying new areas of required research, facilitating collaboration among our many stakeholders, and engaging with more partners and funders.
With this report, you will learn about the current state of disability employment in Florida, and we invite you to imagine what can be possible when business, government, education, and Floridians with disabilities work together for the future of our economy and its workforce.
To download the report, click here.
To view the press release, click here.