For Immediate Release
Contact
Todd Schimpf, [email protected], 850.224.4493, ext. 225
The Able Trust Extends Giving Tuesday One More Day Awards the MacDonald Training Center $250K Grant to Increase Employment Opportunities for People with Disabilities
Tampa, Fla. – The Able Trust extended Giving Tuesday one more day when it recognized the MacDonald Training Center (MTC) as a recipients of a 2019 Strategic Employment Placement Initiative Grant.
MTC is being awarded $250,000 for its CAREER SUCCESS Program, which is a three-year strategic effort designed to overcome employment barriers by providing high-quality technical and personal skills development and needed supplemental support, such as transportation vouchers. CAREER SUCCESS prepares job seekers for contemporary work experiences, including job interviews, networking, developing a LinkedIn presence and social media etiquette.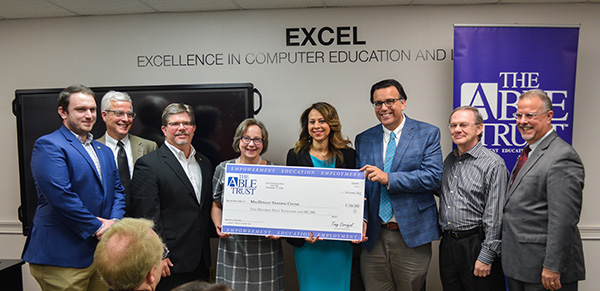 MTC is committed to providing technical education and life skills instruction so that people with disabilities may rise to career building positions. MTC's life skills curriculum focuses on professional and personal growth, emphasizing critical thinking, communication styles and leadership development.
There are an estimated 2,673,685 Floridians with a disability, according to the latest data from the U.S. Census. That is 13.4 percent of all Floridians. In the 18 to 64 age range — the typical age group most likely to be in the workforce — Florida has 1,208,053 people who have one or more disabilities.* Currently, the federal unemployment rate for people without a disability is 3.2% compared to 6.9% for people with a disability. Statedata is not as up-to-date as the federal data, but the most recent for Florida is from 2017 and it showed the state's unemployment rate for individuals without a disability was 6.6%, while it was 16.3% for individuals with disabilities.*
According to the Florida Chamber Foundation's research, A Study of Employment of Floridians with Disabilities, 2019, Florida will need to provide a trained workforce for an estimated 1.7 million net new jobs by 2030. Programs like MTC's CAREER SUCCESS will help train individuals with disabilities so they can gain meaningful employment and engage area business so that they can become aware of and access this large pool of talented individuals who are eager to work.
Engagement and understanding of the business community is vital in creating an inclusive workforce and the best part is research is showing how beneficial it is for companies that hire individuals with disabilities. A recent study by Accenture and the American Association of People with Disabilities has dispelled many of the misperceptions about employing people with disabilities. In fact, the study showed that companies that hire people with disabilities outperform other organizations, increasing both profitability and shareholder returns. More specifically, revenues were 28 percent higher, net income was 2 times more, and profit margins were 30 percent higher.
"The Able Trust is proud to partner with the MacDonald Training Center (MTC) and support the CAREER SUCCESS Program," said Tony Carvajal, president and CEO of The Able Trust. "According to research conducted by the Florida Chamber Foundation, Florida will need an estimated 1.7 million net new jobs by 2030 and programs like CAREER SUCCESS will provide training to an untapped pool of potential employees to help meet these needs. Programs like MTC's CAREER SUCCESS not only benefit the individuals who participate in in the program, they benefit the companies that hire them and the communities in which they live and work. This is a win for everyone."
"All of us at MacDonald Training Center are honored that the Able Trust will increase the number of adults with all disabilities in Florida's workforce through the CAREER SUCCESS initiative. The need for elevated educational and vocational programs is increasing, with 1 in 59 births on the Autism Spectrum and one in 4 of us facing disability before retirement. With the Strategic Employment Grant, MacDonald Training Center will prepare individuals with disabilities for the jobs of the future while fulfilling the hopes and dreams of our friends, neighbors and family members that we are proud to serve today," said Karenne Levy, President/CEO, MacDonald Training Center.
"The Board of Directors of MacDonald Training Center joins me in thanking the Able Trust for this important Strategic Employment Grant. We are proud of the innovative new programming at MacDonald Training Center, and know that CAREER SUCCESS, will change the lives of many Floridians with disabilities though the generous financial support of the Able Trust," said Lenore Horton, Board Chair, MacDonald Training Center.
The Able Trust partners with organizations like MCT across Florida to provide grant opportunities for employee placement programs. Since 1990, the Able Trust has provided more than $43 million in grants to help support programs like MTC's CAREER SUCCESS.
About The Able Trust
The Able Trust is a 501(c)(3) non-profit organization created in 1990. Its mission is to be a key leader in providing Floridians with disabilities opportunities for successful employment. The Able Trust supports numerous workforce development projects, including the High School High Tech program and career preparation programs for adults with disabilities. The Able Trust also provides assistance to businesses as they seek to employ people with disabilities. Since its beginnings, The Able Trust has worked with community organizations in every county in Florida to put thousands of people with disabilities to work. To learn more about the Able Trust, please visit AbleTrust.org and follow @AbleTrust on Twitter.
About the MacDonald Training Center
MacDonald Training Center (MTC) was founded in 1953 by J. Clifford MacDonald and a group of visionary parents of individuals with disabilities. MTC is an organization that is dedicated to continuously improving the quality of the vocational, employment and residential services we have been providing to people with disabilities in the Tampa Bay area for over 60 years. To learn more about the MacDonald Training Center, please visit Macdonaldcenter.org.
# # #
*A Study of Employment of Floridians with Disabilities 2019. – Florida Chamber Foundation