Project Venture Annual Competition
New information on 2023 Project Venture is now available. Click the button below for dates, location and more information.
2022 Opening Comments by Florida Department of Education Senior Chancellor Henry Mack
Orange County Takes Top Place in 2022 Project Venture Competition
This year, Project Venture went LIVE. The 2022 Project Venture competition was held in conjunction with the High School High Tech conference and featured the top three finalists chosen from competition teams across Florida. 
Some of the hardest skills to learn are workplace communication and problem solving.  And perhaps the best way to learn these skills is by experience but that is not necessarily available to high school students. The Able Trust decided to do something about it by creating Project Venture.
Project Venture challenges high school students with disabilities participating in The Able Trust High School High Tech program to develop a business plan proposal and accompanying commercial. The goal isn't necessarily to develop the next Starbucks or Slap Chop, but rather to put students into a situation where they are developing real-world applicable skills: working in groups, learning how to delegate, developing timelines and written communications, and learning problem-solving techniques. Project Venture allows students to develop and hone these important skills in a workplace related simulation.
The top three teams out of the ten teams that submitted Project Venture business proposals attended the Project Venture competition in Orlando on April 29. The teams pitched their ideas to a panel of judges, showed their commercial and answered questions about their product and business plans.
Orange County and the Belt Buddy took the top prize!
St. Johns County and their Guide Right phone app received second place
Lake County and their product Shake it Up! received third place.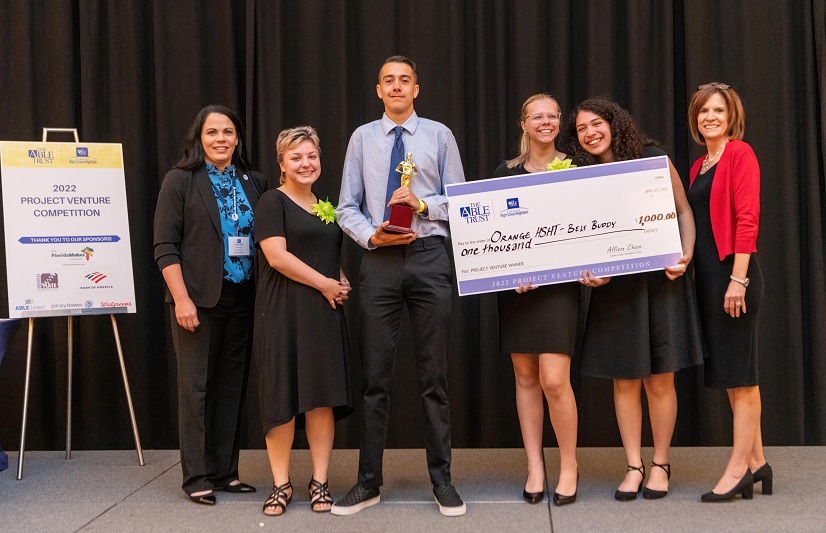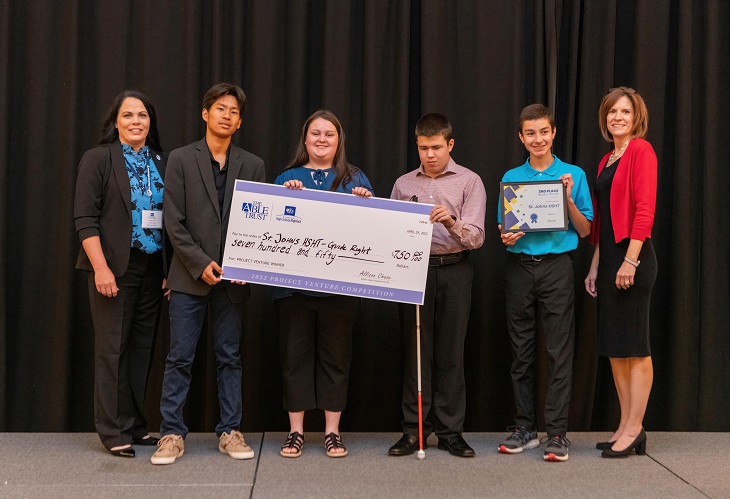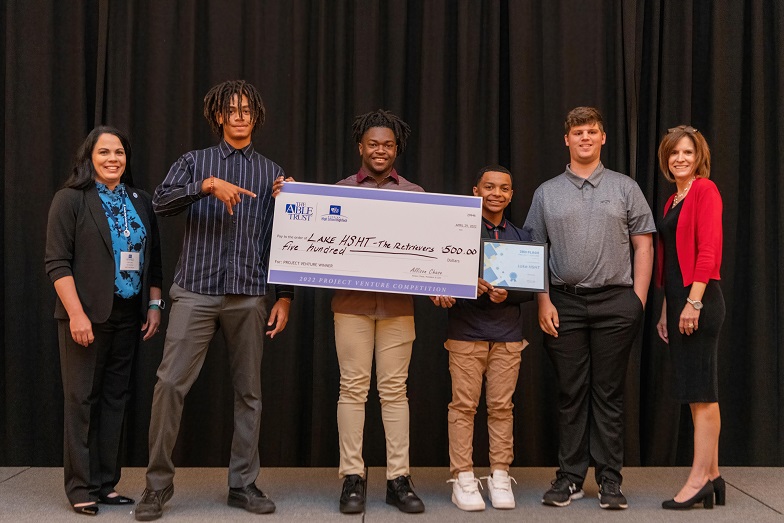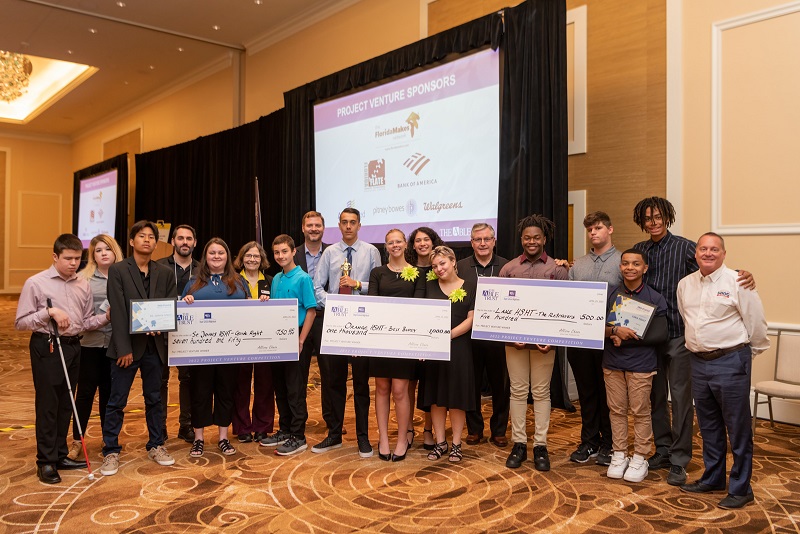 Thank you to our Round One judges for reviewing and assessing the Project Venture competition submissions. The three final teams will use comments and questions provided by this panel of judges to ensure their Project Venture entry is ready to present in Orlando.


Project Venture would not be possible without the support of our exceptional judges and we thank them for sharing their time and expertise.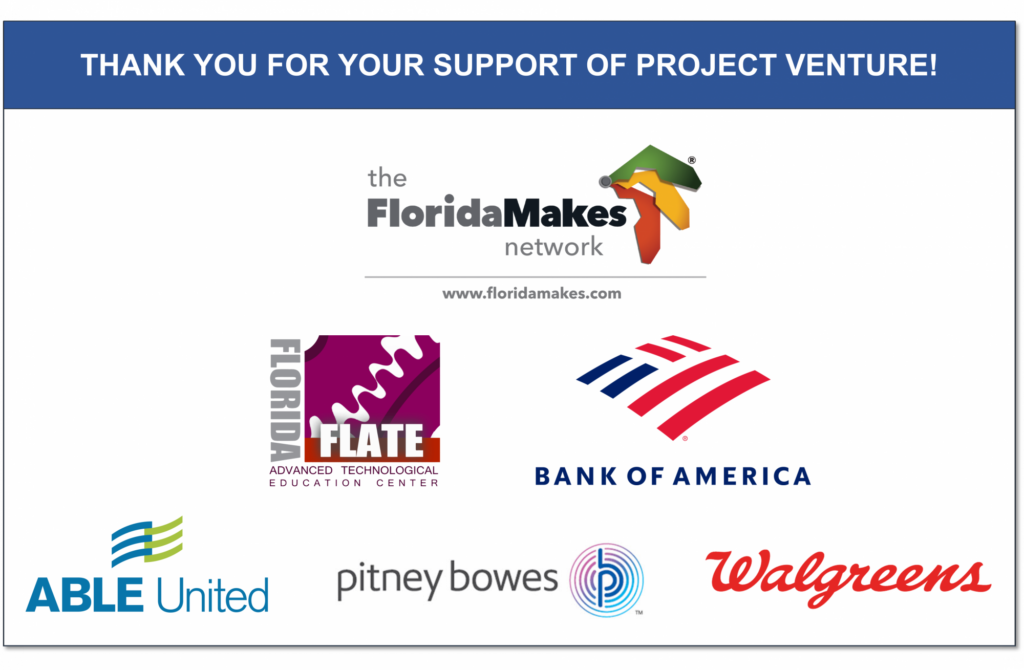 Project Venture Overview
Workplace communication takes many forms: email, face-to-face meetings, instant messaging, video conferencing, and phone conferences are just a few of the methods. This competition should allow students to develop and hone their communication, critical thinking and team work skills in a workplace related simulation.
Each High School High Tech (HSHT) site is encouraged to build interest and develop a team to participate.  Early promotion and adoption will allow HSHT sites to incorporate the competition into their year plans.
Competition Format
Teams will submit their commercials and business plans for judging at the regional level. There is no in-person presentation to complete at this level. One winner from each region will advance to the state competition where teams will submit their business plan, commercial and make their present to the judges.
Regions will be determined to ensure equity of teams competing, not geographic area.
There is no limit to the number of students participating on a team. However, a maximum of four students may participate in the presentation portion at the state competition level. All students participating in the presentation must speak during the course of the presentation. The presentation can utilize presentation tools such as Power Point or Prezi.
Business Plan Format
The business plan should be typed in size 12, in Times New Roman, Arial or Calibri font with 1" margins. The plan must contain the following elements listed below. If they wish, students may include pictures, photographs or other illustrative pieces with their plan. The final plan including any supplemental materials should not exceed ten pages in total length.
Business Plan Components
Teams will need to develop a plan that includes the following components:
1.Executive Summary
Company Name
Product/service overview
Market/customer overview
Logo
Slogan
2. Product/Service
Product Name (if applicable)
Detailed product description
Plans for manufacturing/delivery/preparation
3. Market needs assessment
Customer and market need
Typical customer profile
Any additional research that may need to be done
Sample advertisement: 30 second video commercial
4. Operations and Management
Ownership and business type
Location and major start up needs
Human resource needs
Commercial Format
Teams must also submit a 30 second video commercial advertising their product or service. The commercial can be sent to the Able Trust via flash drive or uploaded to a web-based service such as YouTube and a link provided to Able Trust staff. The commercial must contain appropriate language and imagery as would a standard commercial seen on broadcast television.
Presentation Format
Team competing in the state level competition will need to present to the judges on their business plan and their product or service. The presentation should fall between 10-20 minutes in length. Students should dress in business attire for the presentation. The student's presentation should mimic a presentation given in a professional setting or potential group of investors. The presentation should cover the components of the business plan and go into detail where appropriate.
Rules
Students may be adult advised, but the product/service concept and competition materials must be student created.
Students advancing to state competition should be dressed in business professional attire.
Each HSHT program/site may only enter one team into competition.
Participation
HSHT sites must notify the Able Trust of their intent to participate in the competition by December 4th. Complete competition materials for the regional contest are due to The Able Trust in March. The state competition will be held in April.